Have you ever been prescribed a medication that has a label that looks like this?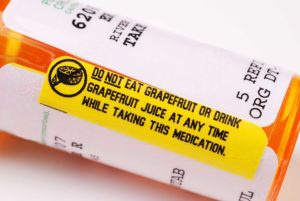 Today we're going to let you in on a secret: Grapefruit has drug interactions. And so does CBD. Let's take a look at what these two have in common, how this interaction works and what it might mean for you.
What do grapefruit and CBD have in common?
In short, both interact with a family of enzymes in the liver that are responsible for breaking down medications.
This enzyme family is called cytochrome p450 (abbreviated CYP). CYP 450 is vitally important to our physiology because of its role in the metabolism of over 60% of prescription medications that people take.
Altering cytochrome p450 changes the way the body metabolizes prescription medications, and this alteration has the potential to result in unintended side effects when taking CBD– or when eating grapefruits.
And, depending on the drug in question and the way it interacts with CYP450, the interaction might mean that the drug is not metabolized at all, or it might mean that higher concentrations of the drug enter into the bloodstream and circulate for longer periods of time (Backes, 2017).
Either way, altering the way cytochrome p450 does its job can have consequences.
That's why physicians and pharmacists often warn patients not to eat grapefruit or drink grapefruit juice before taking certain medications– especially medications like blood thinners, blood pressure medications, and cardiovascular medications in general.
CBD and drug interactions
Did you know that CBD is a more powerful cytochrome p450 inhibitor than Bergapten (the strongest CYP inhibiting compound found in grapefruit)?
The extent to which CBD inhibits CYP450 is dose-dependent (meaning that smaller doses have little to no effect on CYP activity, but high doses do). However, that dosage threshold has not yet been established by researchers.
This is why we recommend talking to your doctor before starting a CBD regimen.
Researchers are only beginning to understand the relationship between CBD and these enzymes in our liver, but so far they've uncovered some important modes of action that could potentially impact a very long list of medications (Backes, 2017).
Interestingly, CBD can both inhibit and enhance the functions of some of these liver enzymes. If a person is taking a blood thinner, such as warfarin, CBD might amplify its effects and increase its duration– which runs the risk of over-thinning the blood.
So, in the case of medications that have strong risks of side effects, CBD may increase the risk of a person experiencing those side effects. In other cases, CBD may block the body's metabolism of a medication altogether, which could be potentially dangerous especially if the drug is one that is considered life-saving.
Conclusion
CBD is powerful. We know that it's non-intoxicating and potentially useful for an enormous range of applications, but it's important to examine each and every part of this molecule in the name of safety for our customers.
That includes acknowledging the existence of and educating the community about the possibility of CBD-drug interactions. Bottom line: we believe in the power of CBD, but nonetheless make sure to check with your doctor before taking any CBD product, especially if you're on any prescription medications.
In the words of Adrian Devitt-Lee of Project CBD,
"…cannabidiol can both inactivate and enhance various cytochrome P450 enzymes in the liver—and this can potentially impact a wide range of medications. Drug interactions are especially important to consider when using life-saving or sense-saving drugs, drugs with narrow therapeutic windows, or medications with major adverse side effects. In particular, those who utilize high doses of CBD concentrates and isolates should keep this in mind when mixing remedies."
Read More
CBD-Drug Interactions from Project CBD
Backes, Michael. Cannabis Pharmacy: The Practical Guide to Medical Marijuana. Black Dog & Leventhal Publishers, 2017.