CBD (cannabidiol) is a cannabinoid that may work towards maintaining balance in the mind and body. When the body is in balance, it is considered to be in 'homeostasis'. Problems like stress, pain, insomnia, and loss of appetite (among others) can throw the body and brain off-balance, making it more difficult to get through the day.
Research shows that cannabinoids like CBD may have the ability to interact with the body's inner endocannabinoid system (ECS) in order to bring the body back into balance. CBD is believed to affect homeostasis through its interactions with the endocannabinoid system, but how exactly does it do this?
How Does CBD Affect Homeostasis?
The conditions of our body can fluctuate due to a variety of internal or external factors. As such, maintaining homeostasis all the time is simply impossible. Thankfully, there are several different systems, mechanisms, processes by which the body can be brought back into a state of homeostasis.
One system that works to maintain homeostasis is the body's inner endocannabinoid system. The ECS is a complex physiological system that regulates and manages several homeostatic processes. By stimulating various cell receptors through various channels, CBD may be able to moderate pain, inflammation, immune response, appetite, metabolism, memory, mood, and emotion.
However, because everyone's body is different, homeostasis looks different for everyone. For instance, genetics and lifestyle can both impact homeostasis over time. This explains why everyone experience's CBD's effects slightly differently.
How Does CBD Actually Work?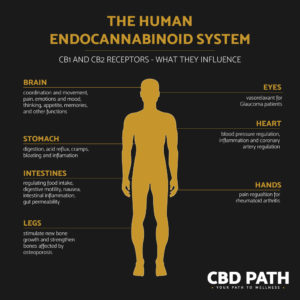 CBD has been found to stimulate activity in ECS cell receptors without actually binding to them. CBD is considered to be a 'promiscuous' molecule that works its magic through various different pathways. In fact, researchers have been able to identify more than 65 molecular targets of CBD.
Unlike its close relative THC, CBD does not bind directly to CB1 and CB2 cell receptors in the ECS. Instead, CBD works by modulating several different ion channels and non-cannabinoid receptors.
One way that CBD works is by directly activating the 5-HT1A (hydroxytryptamine) serotonin receptor. The 5-HT1A receptor is a g-coupled protein receptor that affects numerous neurological and biological processes such as anxiety, addiction, sleep, pain perception, appetite, nausea, and vomiting, among others. Researchers believe that this interaction may be responsible for some, if not most, of CBD's anti-anxiety properties.
CBD has also been found to bind to TRPV1 (transient receptor potential cation channel subfamily v.) receptors, which function as ion channels. TRPV1 receptors are just one of several dozen TRP receptor variants. However, research indicates that TRPV1 receptors are capable of regulating inflammation, body temperature, and pain perception.
While CBD has been shown to stimulate and activate certain receptors, it can also function as an antagonist that blocks or deactivates certain other receptors. For example, CBD is known to deactivate the g-coupled protein receptor known as GPR55. According to a 2010 study, the activation of GPR55 receptors could lead to cancer cell proliferation. By blocking GPR55 receptors, CBD may be able to prevent this effect.
CBD may also activate PPAR receptors (peroxisome proliferator-activated receptors). The activation of these receptors similarly modulates cell proliferation, and may even be able to induce tumor regression. Additionally, activation of PPAR-gamma receptors degrades amyloid-beta plaque, a molecule linked to Alzheimer's disease. This is why some researchers believe that CBD may be helpful for Alzheimer's patients.
CBD is believed to also help maintain homeostasis by delaying the breakdown of naturally produced endocannabinoids like anandamide. By keeping natural endocannabinoids working for longer in the system, CBD further contributes to maintaining balance in the body and brain.